Narrow Width Slitter
"Narrow width slitter" is a compact slitter that aims to cut papers, films, metallic foils, and combined materials into norrow width and with high quality.
It ensures "accuracy of cutting" and "quality stability" for metallic foils, resin, combined materials with HAKUSAN cutter stand which is highly acclaimed in precision cutting for high-grade materials of electronic divices.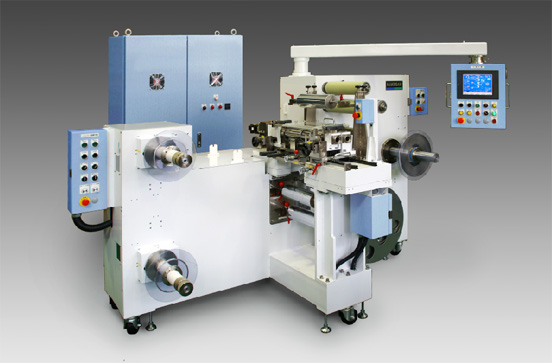 Features
Very narrow slitting enabled

Gang cutting allows to cut 1mm in width, and also to cut different kinds and different width of materials easily. Cutting less than 1mm in width would be also possible depending on slitter knives.

Highly accurate cutter stand equipped

Equipped with highly accurate cutter stand that can resond to various blade combinations and cutting types, it enables easy blade configuration even for beginners and ensures stable cutting quality.

Supporting various type of windings

Hakusan original rewind friction method enables narrow wide individual rewindings. It also supports easy change of rewind inner diameter, various windings such as direct rolling, spool winding and bobbin winding.

Operational advantages

Digital management control system and preset function at optimal value are loaded for a stable operation.
And, driving and blaking status can be monitored in real-time and recorded for ease of maintenance.
Specifications
[Spec of PA300-SS is shown below as a sample of this type.]
Sheet width:
MAX 300 mm
Unwind outer diameter:
MAX Φ350 mm
Unwind shaft size
Φ3 inches (Φ76.2mm)×L400 mm *Another size is available.
Weight of material:
MAX 60 kg
Cutting method:
Highly accurate Gang slitting *Another type is available.
Material holder:
Ring finger
Rewind out diameter:
MAX Φ350 mm
Rewind minimum diameter:
Φ3 inches (Φ76.2mm) when each friction unit is used.
Rewind weight:
MAX 60 kg (30 kg/1 shaft)
Winding method:
Dual shaft individual rewind friction
Minimum cut sheet width:
1mm
Line speed:
MAX 100m/min
Power facility:
AC200V 50/60Hz
Weight:
Machine: 1,500kg
Control unit: 400kg