Slitter for Battery Materials
Slitter for Battery Materials such as lithium battery electrodes is designed to cut battery materials (cathode, anode materials, separators) with a high degree of accuracy.
It has a high-precision cutter stand which improve the cutting quality by controlling with numerical values and a new mechanism. Blade type is selectable depend on characteristics of your materials.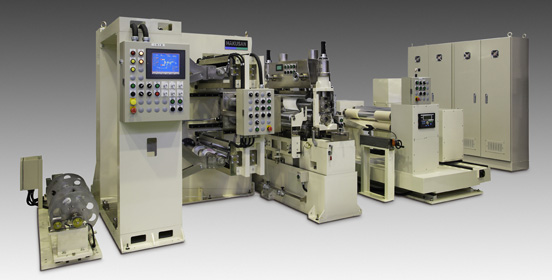 Features
High-precision cutter stand enabling stability in cutting battery materials

Precisely controlling the positional relationship between the blade and material in increments of micrometer units, it can reduce generating base material burrs and powder for cutting battery materials which having different properties combined.

Balancing quality and cost by selecting the cutting method

This slitter can respond to two blade combination types of Gang and Goebel without the need for replacement of parts. By using both combinations according to difference in properties between anode materials, cathode materials, and separator, stable high cutting quality and cost reduction can be balanced.

Working details can be controlled by setting numerical values.

Original machanisms and mesurement control technologies are equipped. It enables a high reproducibility and a stable cutting quality that is not dependant on a visual check and feeling.

Blade easily combined by extendable cutter shaft

An "extendable cutter shaft" is a mechanism for fixing the blade by extending the shaft diameter by hydraulic pressure.
Rattling when attached is small and variation in the lap amount due to vertical deviation of the blade can be prevented.
The diameter of the shaft is decreased to make insertion and removal easy, when the blade is combined.(Extendable cutter shaft patent pending)

Thermal expansion during operation automatically adjusted

It measures thermal expansion during operation at each shaft bearing mechanism of the upper and lower cutter shafts.
When a deviation in the thrust direction between both blades is generated, the position of the shaft is controlled in increments of micron units to keep the cutting quality at a high level.
Cutting method
Gang

Goebel
Specifications
[Spec of DA700 is shown below as a sample of this type.]
| | |
| --- | --- |
| Processing material: | Battery materials (cathode, anode materials, separator) |
| Applicable sheet thickness: | Total thickness 0.05~0.2mm |
| Maximum sheet width: | 700mm |
| Maximum source coil weight: | 300kg |
| Source coil inner diameter: | φ3 inches (φ76.2mm core inner diameter) |
| Maximum source coil outer diameter: | Φ700mm |
| Maximum rewinding coil weight: | 300kg |
| Rewinding coil inner diameter: | φ3 inches (φ76.2mm core inner diameter) |
| Maximum rewinding coil outer diameter: | Φ700mm |
| Line method: | Whole tight, drive cut, slip winding |
| Line speed: | MAX 100m/min |
| Cutter type: | Gang/Goebel |
| Material holder: | Ring finger, concentric rubber, roll holding method |
| Winding method: | dual shaft individual rewind friction |
| Apparatus size: | W6500×H2050×D2600mm |
| Power facility: | 200V AC Three-phase 50/60Hz 22kVA |
* Coating mainly consisting of metal foil and electrode composite materials by lamination are assumed.
Thickness of sheet to be processed and wound coil outer diameter may vary depending on meterial.
Standard equipment composition

Un-coiler
Tension pickup
EPC device
Bridle roll
Cutter stand
Electric near roll (2 shafts)
Recoiler (2 shafts)
Scrap winder (2 shafts)
Electric device

Jig tool/consumable parts

Cutter
Cutter spacer
Ring finger
Winding core

Options

Entry-side and exit-side material handlings
Attachment for adjusting source coil inner diameter
Suction nozzle for contamination
Cutter cleaner
Pass line angle adjustment mechanism