A story of product development
In the summer of 2020, when I was riding a bicycle while wearing a mask, I wondered if I could reduce high temperature and closeness by the use of surgical masks; therefore, I started developing the HERO inner mask. Several products available in the market that allow the mask to float from the mouth; however, wearing it for a long duration leads to suffocation, and hinders its filtering effect if the mask is not properly worn. I believed that we require a mask accessory that allows the user to breathe more comfortably, even when the mask is worn properly.
To eliminate this suffocation, I believed that it is important to induce an airflow inside the mask from the top part to the bottom part and regulate the flow in one direction through an electric fan and a small turbine that rotates due to the exhalation from the nostrils. I have developed several prototypes to achieve practicality and solve the suffocation issue using the simplest possible mechanism, similar to a physical check valve. As a result of repeating experiments, in which 100 or more prototype models were attached and exercised, I concluded that a simple hole on the "partition plate" can be sufficient, instead of a check valve.
While the exhaled air from the nostrils has kinetic energy; therefore it can easily pass through the holes in the partition plate, moving downward. This is because the inhalation is caused by the suction of stationary air around the nostrils, which does not result in backflow of the exhaled air from the lower side. The simple hole and plate alonesufficiently block the backflow of the exhaled air, inducing the same effect as that of a check valve. A unique structure that rectifies the inflow and outflow of air from the nozzle (nostrils) makes this possible.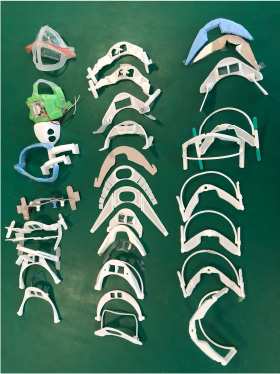 Prototypes of HERO Inner-Mask